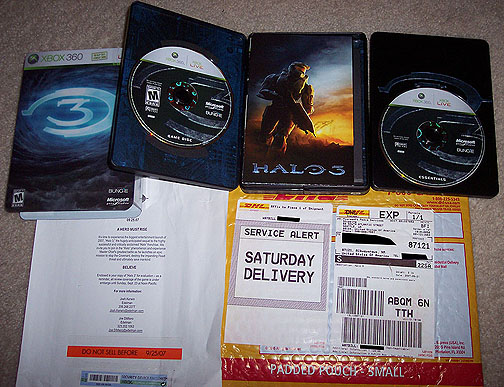 You could imagine the joy I had the morning of Saturday, September 22nd, when the DHL driver rang my doorbell. I saw the package - and I knew Master Chief had arrived for extended R & R at the Skillz's household.
The bubble mailer seemed very heavy compared to most games that publishers and developers usually send. I cut open the mailer and saw the Limited Edition version of "Halo 3" looking back at me. I grinned - the limited edition. Sweet.
However, I heard something sliding back and forth in the tin. I didn't realize until later what it was.
I removed the plastic wrap, the security tags and pushed the tin from its protective slip cover. When I opened the two-door tin, I saw the game disc off of its rubbery tab, which was supposed to keep the game in place. I opened the other side of the tin and the limited edition DVD was off of the tab as well.
I didn't immediately examine the damage because I was working on getting my Man Space (home theater) ready for the 4-man frag fest. I also wanted to experience "Halo 3" with the rest of the gamers Saturday.
After the players arrived, the projector was going at 120" on my wall, I opened the tin again and got the game. OH NO! There were at least 3 mild scratches on the game DVD! I had seen stories on digg.com about the limited edition version of "Halo 3" suffering the same problems. During shipment, the rubbery tabs didn't hold the two DVD set in place and scratched the DVDs in transit. My copy was no exception. The regular version and the legendary version of the game, clocking in at $129.99, don't suffer from the scratching.
I put "Halo 3" in and it skipped a few times. We all just shook our head and hoped the scratches wouldn't really matter.
Finally, the game started playing, the skipping stopped and the fragging began.
The limited edition, which retails for $69.99 includes the game, a limited edition DVD called "Essentials," which features an HD calibration tool that helps you configure your HD TVs for optimal viewing, featurettes and short films on Halo and configuring your LAN connection for "Halo 3." The DVD also includes Art Attack, which has gamer pics (for your Xbox Live gamer card), Xbox 360 Dashboard themes, production art and a classic Halo-themed minigame. The other contents include a control map, the manual, Bestiarum (an illustrated hardcover book to the species and cultures of the Halo universe), Halo Wars pamphlet and another pamphlet about a Pontiac car.
Scratches aside, it's a very good value at $69.99.