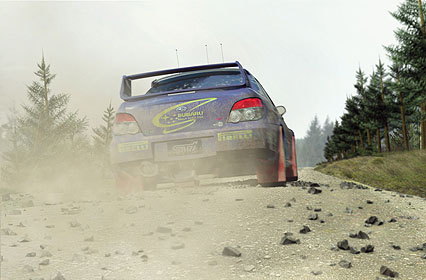 Codemaster's video game, "DiRT," gives 360/PC owners one thing you wouldn't expect to see before the 2008 presidential race - some good mudslinging.

The off-road driving game is loaded with tons of stats, a hard-core career mode (At least 8 tiers of racing to get to the top) and more options than you can shake a mudpie at.

I had played the demo, so I was familiar with the initial setup. "DiRT" stars off-road rally god Colin McRae, known in the past for his off-road video games. He and professional DiRT devil Travis Pastrana lend their voices to "DiRT."

What really stands out most about "DiRT" are the graphics. Oh my ... I was amazed by the richness of the graphics, the sharpness and details of the visuals. I decided to get my feet muddy on the Rally World mode. It is quick - perfect if you aren't sure about diving into career or multiplayer modes. What I found sick about the mode is - you aren't limited to just one option. You can do single races, single events or time trials. I enjoyed doing the single races and events. My favorite vehicle? The dune buggy! And the desert track, set in Chula Vista Raceway in California, reminded me of off-roading on the West Mesa. Not that I have been off-roading recently ... ;-)

There are also liveries you can unlock as you progress in the game. You can even earn McRae's and Pastrana's Subaru Imprezas in the Summer X Games, according to their press release. I have unlocked 4 (of 182) in the game so far.

What I really enjoyed about the realistic off-roading is ... the damage aspect. When you flip your vehicle - and trust me, you can do it - you are magically zapped back onto the road, but ... your car has damage. During a practice run, I slammed my car into a wall and the door fell off. Ok ... but as I was reset on the track, my door was ... GONE. And the drama didn't stop there. I also ran into a set of tires against a wall during a lap. The tires went vertical, and two of them actually stayed under my chassis for a minute or two. On my next lap, the tire mess I had created earlier were still there. Forza 2 has a similar feature - debris - and I think this is one of the best features in racing games being made these days. If a ground effect falls off during a race, whether intentionally or not, it should be visible on my next lap.

While I definitely enjoy getting down and DiRTY, the game isn't perfect. The multiplayer is confusing - and very, very limited. It's a one-player game, so you frat boys can kiss playing this title with three of your friends goodbye. Also, during replays, you will notice the crowd is as lively as a corpse - they do cheer, which is rather creepy - and some of the graphics being drawn lag quite a bit. And a missing addition is being able to adjust lighting. During my laps around the Chula Vista track, I so wanted to adjust the shade/color, but couldn't locate the option.

I was also surprised by the lack of downloadable content for the game.

Overall, with "Motorstorm" for the PS3 setting the bar for off-road video games for the next-gen console battle, "DiRT" is a very, very strong contender. Packed with tons of tracks, different versions of races, and awesome graphics, even street racers can find something to appreciate in Codemaster's offering, "DiRT."

Why should I care about this game: It's an off-road racing game, but the depth of the game adds to the replay value. By far, one of the best racing games on the Xbox 360 and will give "Motorstorm" a run for its money on the Sony PS3.

What makes this game rock:
Killer graphics - some of the most photo-realistic graphics I have seen on the Xbox 360.
Gameplay depth - you won't get bored easily with the three expansive modes.
Damage - yay for debris and missing car/dune buggy/SUV parts all over the track.
Sound - good mix of tracks, and awesome vehicle sounds.
A departure from off-road games of old - this game wants so bad to break the mold for a very unique offering.

What hurts this game:
A real multiplayer mode - having the ability to race three of your buddies on your console would be sweet ...
No downloadable content? - Just imagine having extra cars later to add even more freshness to the game.
Display options - being able to make the screen lighter/darker in-game would be a great addition.

Duke City Gamerz rating: 8.75 (out of 10) - if you own a 360/PS3, and you like driving, take this title for a spin. And have fun playing in the mud!

S.K.I.L.L.Z.