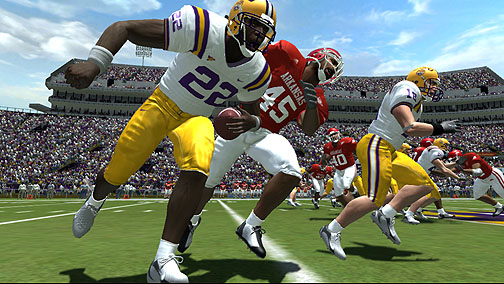 Ok, I will admit it. I have a blast creating players in sports games. Though I will never play professionally, I can dream about my son Trey slamming over Yao Ming, or hitting a grandslam over the Big Green Monster at Fenway.

EA Sports' "NCAA 08" isn't a Madden clone with crazy college mascots and sweet graphics and framerates. It's a solid college football game that can impress.

The game has two modes: Dynasty and Campus Legend modes. The Dynasty mode features some way cool features in Dynasty mode that include the Prospect Search engine, the Recruiting board, Telephone Mechanic (you call prospects to gauge their interest), U.S. map and promises (this is kind of sketchy). The Campus Legend mode allows you to attend practice and work your way up the depth chart or keep your job on the team. You can also simulate various evening events and earn respect as a college freshman by doing events and attending practice.

You can also save your favorite replays and create video highlights.

There's also an ESPN sports ticker and dynamic, real-time weather from the Weather Channel.

Now to the gameplay. It's pretty fluid, though at times, the games would stutter. I noticed this during certain situations, like the Old Spice RedZone stats and during cut scenes. It can get annoying.

The graphics are good, but not as sharp as "Madden 08." The sound is good - but not great. Hits are hits. As I stated earlier, "Madden 08" outshines "NCAA 08" in the sound category.

As far as gameplay, I really enjoyed creating my son in the game in Campus Legend mode. Instead of just starting for a team and making a name for yourself, you have start out in the high school playoffs. This is a very cool feature - they have several high school squads on the game. I put my son on the La Cueva squad. He played in all four high school games, and what's sweet about the mode is you can simulate up until the point you are back in the game. This is a great feature because you can focus on doing the best in your role.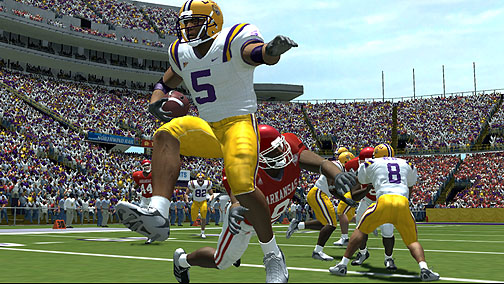 After winning numerous accolades for leading La Cueva to the state championship, I was offered scholarships to numerous college and universities. The only knock I have here are the SWAC, MEAC and other African-American colleges aren't represented. Since I couldn't choose Alcorn State (Go Braves!), I settled on Navy. What a jump, huh? Even though they weren't ranked, I did get a scholarship and a 3rd string slot.

I ended up attending practice every day and also attending evening events. Not only did it build up my rep in the game, it increased my popularity on campus. During practice, you run plays the coach calls. You earn points for gaining 10 yards, making touchdowns and making offensive and defensive plays (depending on your position). You get 10 plays to prove your mettle. If you earn enough points, you move up the depth chart.

There's multiplayer and online leaderboards.

It's not "Madden 08," but "NCAA 08" is a starter who needs a little bit of practice.

Why should you care: If you are a college gridiron nut, this game shines.

The good: High school playoffs, Campus Legend, Dynasty modes with in-depth recruiting, online sports ticker, online multiplayer, video highlight reel and dynamic, real-time weather conditions.

The bad: Stutters sometimes with extra content on screen, good but not great graphics, and should have more of Madden's features in the game.

The ugly: Your opponents after you run over them on the field.

Overall: 8.5 (out of 10): While it's not as sharp as its big brother, "Madden 08," it's still pretty sweet to play on your high school team. You can even send your career squad to "Madden 08" to continue their football career. It's a must-have for college football fans.