Grab your Wii remote and prepare to do some shot calling in "Pool Party" on the Wii.

The game, created by Hyper-Devbox and published by Southpeak, brings the best pool game to date on the Nintendo Wii. It's a pretty straight forward game - but I definitely recommend looking at the manual to learn moves.

There are two modes - single player and multiplayer. Up to two can play on the Wii in multiplayer mode. However, the single player modes are numerous. The modes are: practice mode, bonus 9 balls, time attack (you have to clear the table and beat the clock), pool 9 balls, pool 8 balls, pool 10 balls, pool 15 balls, straight pool, rotation pool, blackjack, full snooker, short snooker and killer. Say that fast 5 times.

You can also select your environment. You can modify your room, your table, ball set, the cue, your character, music and even make a random selection. As you play the game, you can unlock different options in your playing environment.

There are also other game options, including instant replay, setting the ball, examing the ball and enabling and disabling in-game options.

Gameplay is pretty sweet - though I'm no pool shark, I picked up the game very quickly. You use the Wiimote to hit the ball. The camera angles work good - it doesn't feel pushed one bit. You can also speed up your opponent's shots too. Just like a real pool game, you can adjust the angle all over the ball. And the trajectories really work. I am still amazed at how the Wii's AI can hit a shot that looks next to be impossible.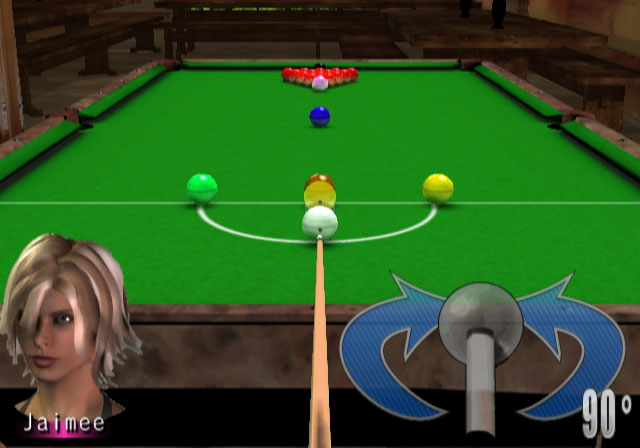 Graphics are good, but not great. The environments are entertaining - there's one room that reminds me of a hallway in the projects. No joke - the lights even flicker. What a nice touch!

The intro and cut scenes look rather cheesy. It feels like the Hyper-Devbox crew spent a lot of money on the actual gameplay and realized right before the game went gold that they had to do the intro and cut scenes.

The sound is ok - the bell that rings when it's another player's turn, made me feel like a prize fighter. The characters don't talk, so that's a plus.

Something rather confusing and not covered in the manual is continuing your career. I loaded my saves a few times, but ended up unlocking the same items again. Unless I can figure out how to keep my progress, it wouldn't be cool to finish the game and end up losing your progress.

Despite the cheesy cut scenes and baffling career mode - if you can call it that - "Pool Party" sets the bar for pool on the Wii. While "Wii Play" has a pool minigame, this is much more involved and will fill your pool shark void. Check it out and don't forget your chalk.

Why should I care: It's a sweet billiards game that offers Wii players a more in-depth experience than the "Wii Play" pool minigame.

The good: By far, the best pool game on the Wii - easy to learn controls - sweet shot setups - funny environments - multiplayer mode and good price ($29.99)

The bad: Confusing career mode - cheesy cutscenes and intro - sounds that make you feel like Mike Tyson - no online mode

The ugly: Trying to find my save games and get them loaded - I'm still trying, folks!

Overall: 7.5 (out of 10) - while this game is filled with some good features, there's some problems with this game that Hyper-Devbox should look at. If you are going to make a career mode or a single player mode that offers advancing, you need to make it clear how it operates. And the starting bells sounds and soundtrack (I won't even go there) needs some work. A good start and the Wii is definitely a promising console for Hyper-Devbox and Southpeak.