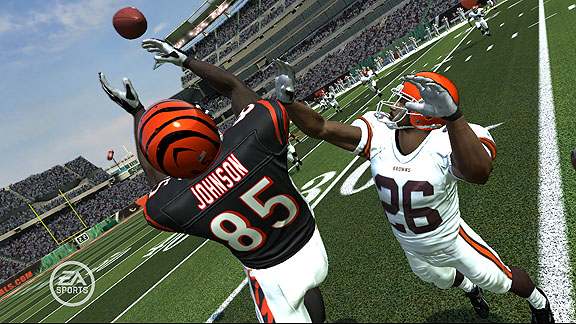 So what I got PWN3D. "Madden 08" on the 360 was still an awesome ride.

EA's flagship franchise, "Madden," has been conquering the digital gridiron horizon on gaming consoles and computers since appearing on the Apple II C in the early 1980s. Now, over 26 years later, "Madden 08" has marched onto next-generation consoles.

According to articles on usatoday.com and ign.com, the 360 version sacks the PS3 version hands down because of a dismal framerate. The 360 runs at 60 fps - the PS3 version runs at 30 fps. Regardless, the 360 version shines over previous "Madden" titles ("Madden 06" and "Madden 07") that appeared on the box.

The 360 version features sweet graphics, bone-crushing sounds and tons of multiplayer and online features. As far as gameplay, the 60 frames per second provided absolutely no slowdown. The plays ran smoothly - the execution even better. When players get hit, not only is the sound crushing, but the impact looks awesome.

I won't bore you with the features that made the cut from last year's offering. I will draw your attention to a few, sweet new features.

One of the coolest new features is the Weapon feature. Each star player has an offensive/defensive skills that are identified on the field. Some of the *weapons* include: Accurate, Big Hitter, Brick Wall defender and Hands. Just ask Trib sports reporter Phil Parker about Baltimore Ravens' Ray Lewis. Lewis and a few other Ravens' weapons thumped his Saints QB right out of the game. It's a welcome addition to the franchise, and helps n00bs figure out what player to select to get the job done right.

Another cool feature is the "Rings of Champion" gamer level. As you play games and minigames or completing tasks, you earn points. There are five levels - and each level contains a game ticket and stats that sit alongside your rings.

New to "Madden" this year are 'Busts and Gems." As you play the franchise mode, you need to take time to look over your potential draft picks. After 1 to 3 seasons, your picks will be labeled 'bust' or 'gem.' Now, drafting really matters!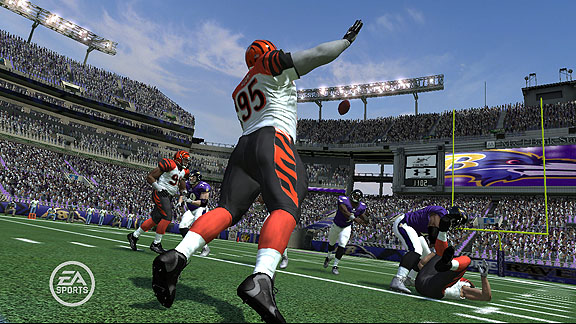 ESPN also provides sports coverage via their ticker. You can also read sporting news online as well in the game.

The burning question on every football lovers mind - who wins? "All-Pro 2K8" or "Madden 08?" While "All-Pro" works hard to dethrone "Madden 08," "Madden" sacks "All-Pro" like a brutal Reggie White hit. It's an awesome title well worth the price of admission. The upgrades from "Madden 07" really make this a gem.

Why should I care: Unless you've been under a rock for the past few years, "Madden" is arguably EA Sports best-selling software title. The 360 version outpaces the PS3 version big time.

The good: Awesome graphics, stellar gameplay, sweet framerate (360 version), the Weapons feature, and the integrated ESPN news and ticker.

The bad: Trying to figure out how to play the training minigames (no biggie)

The ugly: Trib reporter Phil Parker's 42-0 thumping.

Overall: 9.25 (out of 10) - "Madden 08" 360 is one of the best football games I have played in a while. If you like football and own a 360, you need this title for your collection.

To read more about "Madden 08," check out My reaction to my 42-0 thumping, and Trib sports reporter Phil Parker's version here.